CH

. BELNOIS TO BELIEVE IN DREAMS, CD, DD, RE, CGN

BMDCC Versatility Award
Canadian Champion in Conformation
Canadian Obedience Companion Dog Title 'CD'
Canadian Rally-Obedience Novice Title 'RN'
Canadian Rally-Obedience Advanced Title 'RA'
Canadian Rally-Obedience Excellent Title 'RE'
Canadian Draft Dog Title 'DD'



Female
Bernese Mountain Dog


CKC

# TA155231
Born January 30, 2007
88 pounds
23.5 inches



BernerGarde ID : 55358
Pennhip : .52 / .36 (60%)
OFA-Hips-GOOD  BMD-15001G24F-VPI
OFA-Elbows-Normal BMD-EL6681F24-VPI
OFA-Cardiac-Normal  BMD-CA1374/12F/P
CERF-Eyes-Clear  BMD-4283-2009
Vetgen-Vwb-'Clear by parentage'



_
Trinity received the following Canadian Kennel Club titles:


'RN' Rally-Obedience Novice title / June 2008

'CD' Obedience Novice title (Companion Dog) / August 2008

'RA' Rally-Obedience Advanced title / September 2008

'RE' Rally-Obedience Excellent title / May 2009

'CGN' (Canin Good Neighbor) / May 2009

'CAN.

CH

.' Canadian Championship / July 2010

'DD' Draft Dog Title / June 2012

MOTHER - Charlotte ( 8 years on the photo )

Charlie Painchaud, RN, CGN
OFA-Hips-GOOD
OFA-Elbows-Normal
OFA-Cardiac-Normal
CERF-Eyes-Clear
Vetgen Vwb 'Clear'

CH

.F.Eulis Van't Stokerybos, CD, RE, DD, CGN
Import from Belgium


OFA-Hips-Fair
OFA-Elbows-Normal
OFA-Cardiac-Normal
CERF-Eyes-Clear
Vetgen-Vwb-'Clear'
Trinity herself and her everyday presence is truly a gift in our lives.

Full of promise, this wonderful girl has all the qualities to offer us the best : she has passed all required health tests, certified hips/Elbows/Eyes/Heart all normal. She is very beautiful, easily finishing her Canadian championship and she also has the best personality, calm, social and obedient. She has a huge desire to please us and a great ability to learn quickly all we teach her, so she quickly earned many obedience and rally titles in the performance rings!

Now, she also has been a proven quality mother, offering us very promising puppies with all her qualities and even better! The families who have already adopted one of her puppies are more than happy with their new addition! We presently have several of her offspring kids as young hopefuls for our next generation, mommy Trinity is very proud of them as we are too.

Trinity is the mother of Billy, Watson, Magik and Dream.

Trinity is the full sister to  Tia  that has also proven to offer us very nice promising bernese mountain dog puppies!

Trinity 1st try in Agility - September 2012 !

Trinity 5 1/2 years old qualifies in agility - September 2012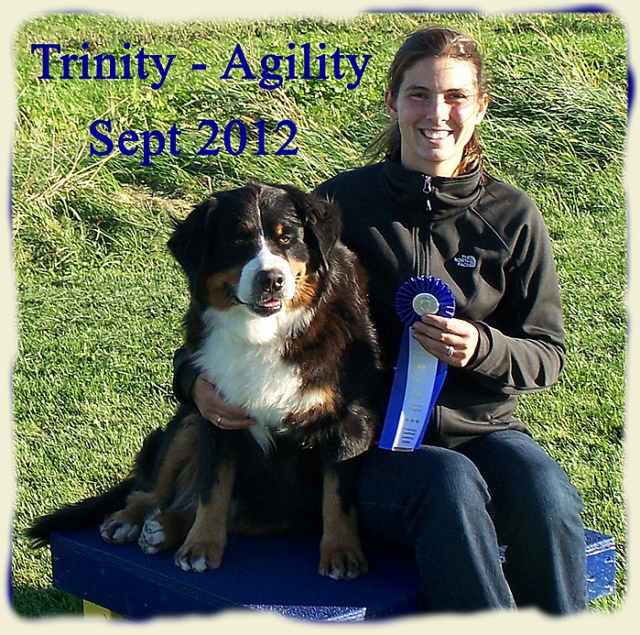 Trinity completes a new title : Draft Dog 'DD' !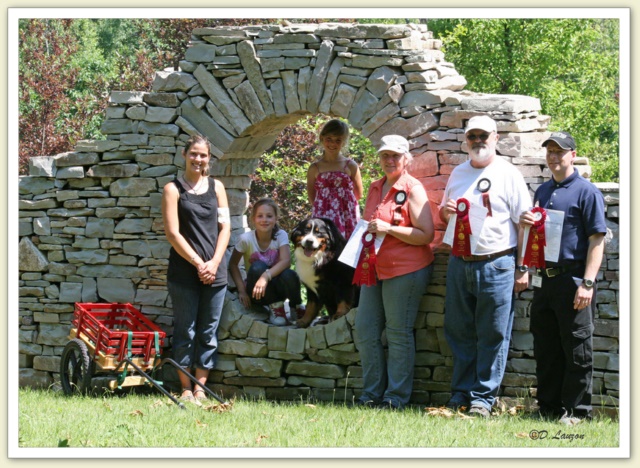 Trinity - Champion in conformation & obedience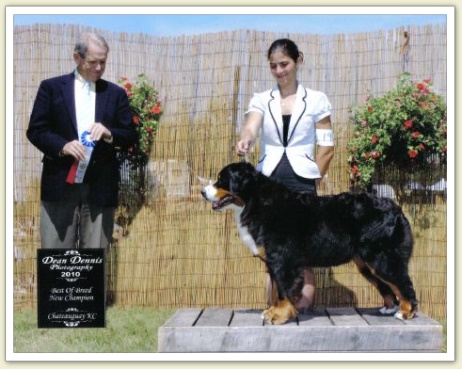 Trinity 7 years - Best Veteran at the Bernese Mountain Dog Specialty BMDCSWO - May 2014
A big Thank you to judge Mrs. Geraldine Taylor.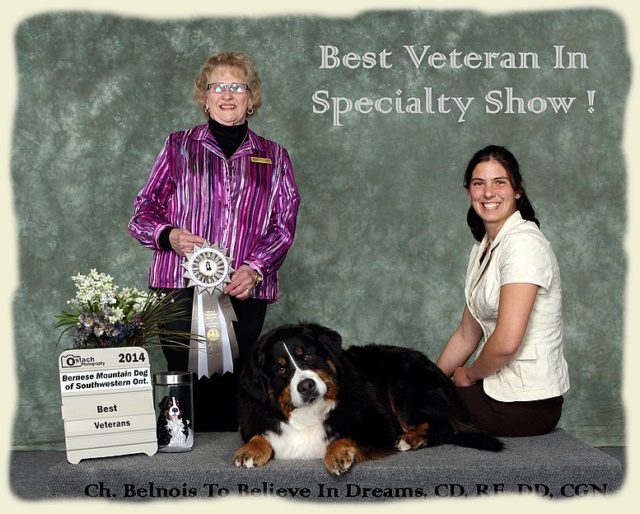 Trinity 7 years old - Best Veteran in Sweepstakes of the BMDCSWO Specialty - May 2014
Huge Thanks to breeder-judge Mrs. Linda Carney.

Trinity 7 years - Best Veteran at the Bernese Mountain Dog Specialty BMDCSWO - May 2014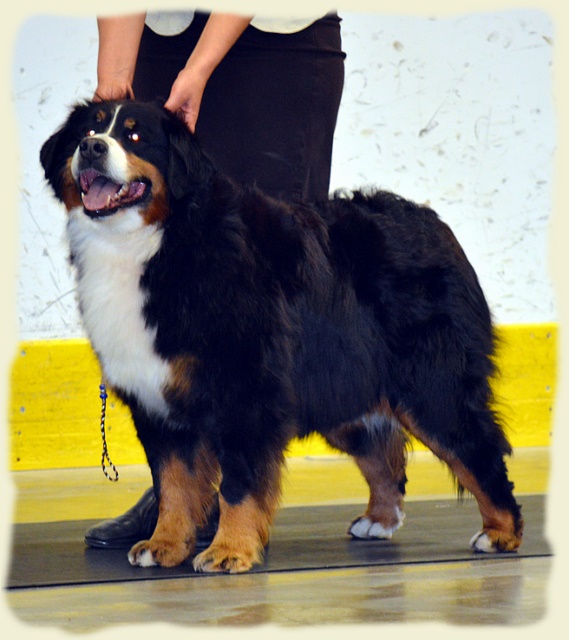 Grand-ma Trinity 7 years old with her grand-daugthers of 4 months old, Maeva & Quila - May 2014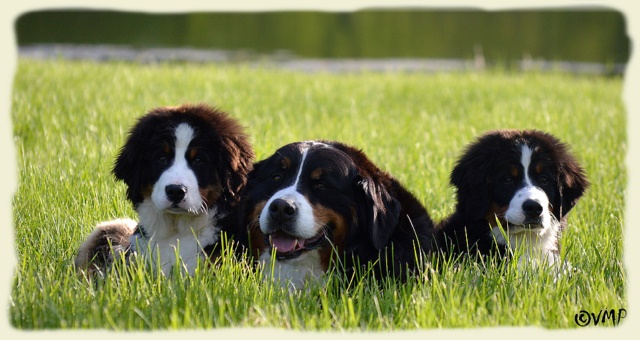 Trinity 6 years & Yma - March 2013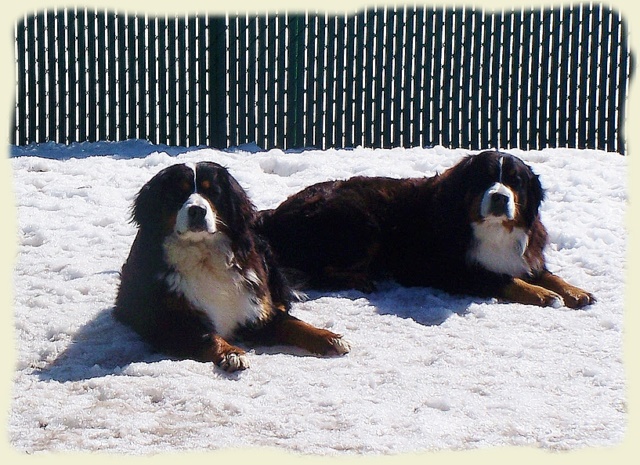 Trinity 5 years - BMDCO Draft Test - June 2012

Trinity 5 years & Lydia taking a nap - June 2012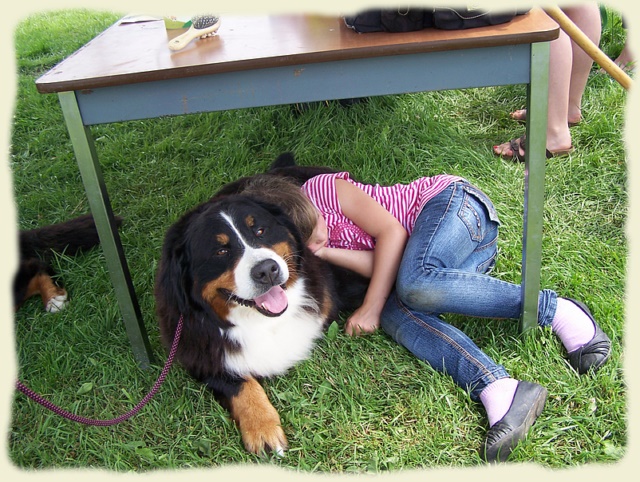 Trinity 5 years - Winter Fun - February 2012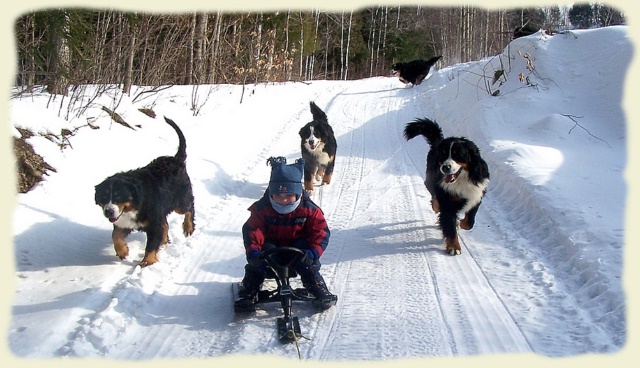 Trinity 4 years!

Trinity playing obedience pratice with Joy and Kelly-Ann - March 2011

Trintiy 2.5 years, Junior Handling with Kelly-Ann - August 2009!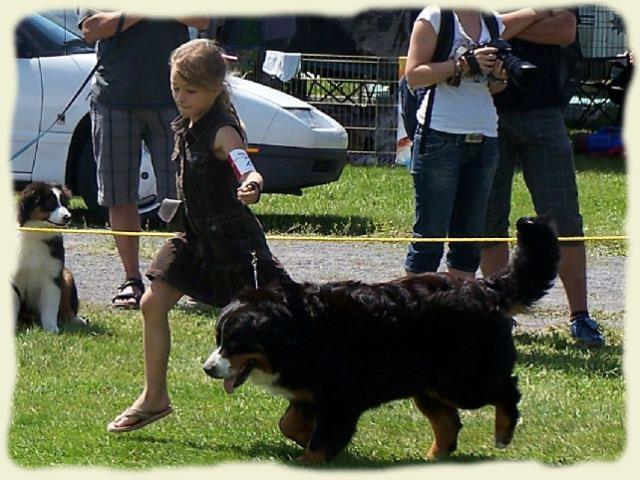 Trinity now with Lydia in Junior Handling, what a team - August 2009!!!

Trinity 3 years old, with sister Tia, mommy Charlotte and Kelly-Ann!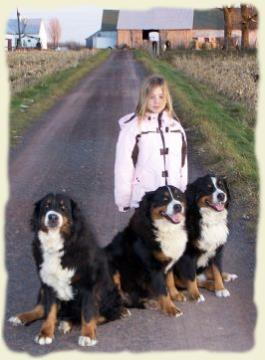 Trinity november 2009, with her mother Charlotte, Gabrielle and Kelly-Ann!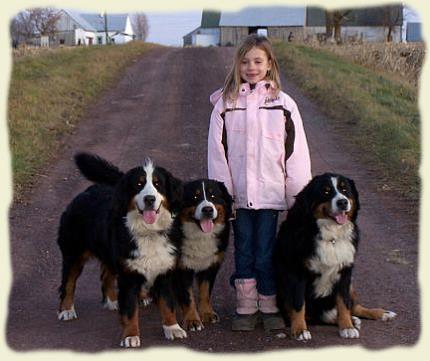 Trinity, 22 months, with daddy Eulis and mommy Charlotte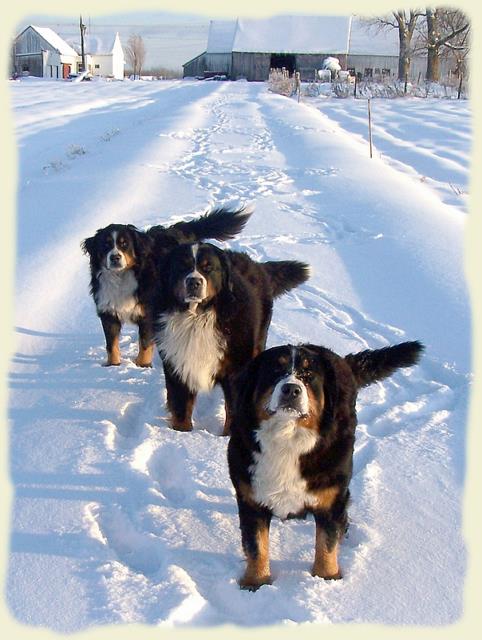 Trinity and daddy Eulis!

L'ANSE ST-JEAN SHOW 17-18-19 2009
Trinity had the most wonderful weekend with Kelly-Ann and a friend, what a joy! She also got 'Best Female' on Saturday who earned her first points towards her Canadien Championship!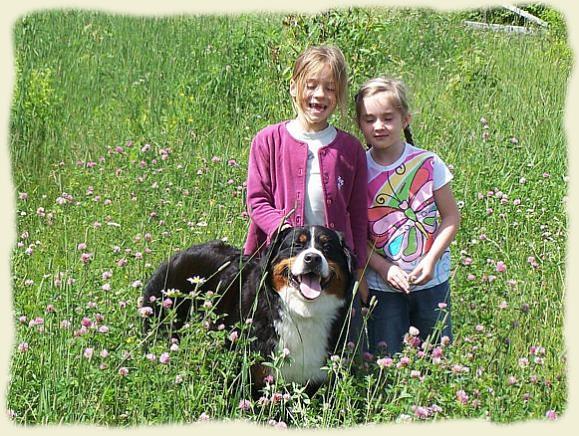 Draft Dog Test - Bernese Mountain Dog Club of Canada Specialty, Trois-Rivieres 26 June 2009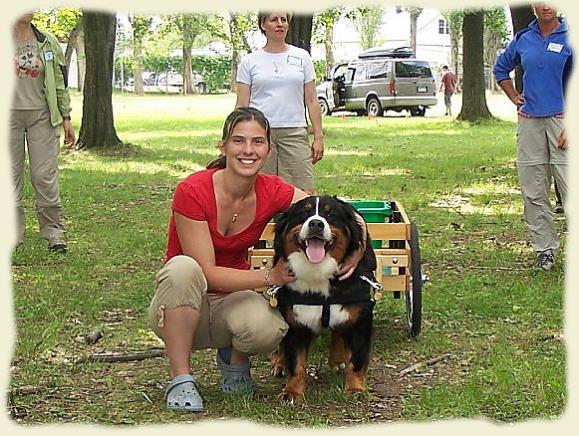 Rally-O Trials, MCOC 23-24 May 2009
Trinity is amazing and is beautiful to watch complete her Rally-O Excellent title in a flash!!!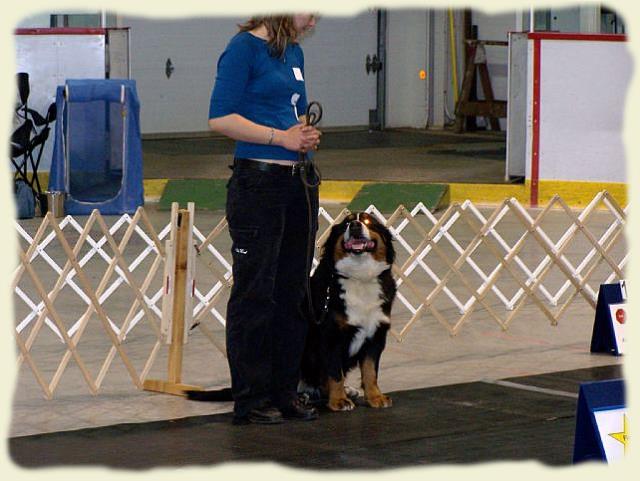 Ste-Marie Show 9-10 august 2008
Trinity doesn't stop to amaze us.... she completes her 'CD' Obedience title with only all 'High in Class' ribbons!!!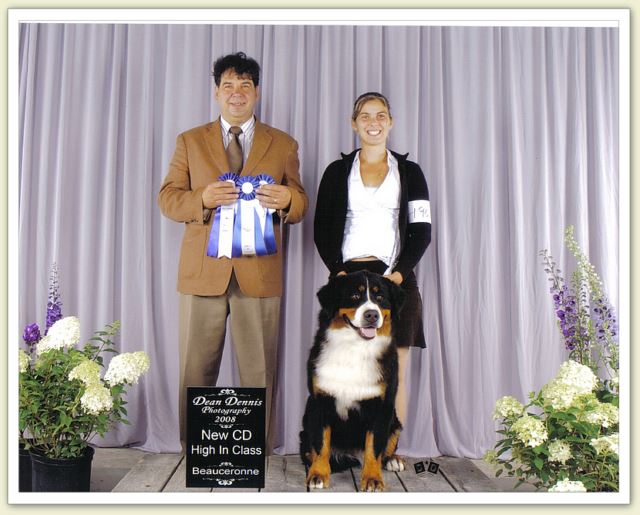 Ste-Foy Show 2-3 August 2008
Trinity is hot, hot, hot and gets many 1st place ribbons in the Rally-O AND Obedience rings, in the same day, both days!!! She would transfer from one ring to the other happily 4 times a day and still did perfect, we couldn't of asked for more of her ! BRAVO Trinity :)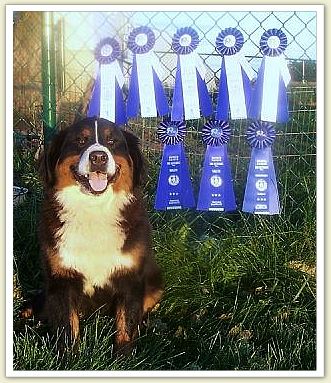 Brôme Show June 15, 2008
Trinity qualifies both the 2 trials of Rally-O that same day with 2nd place ribbons over many entries with 99 and 97 points on 100 !!! She was with her father Eulis who also qualified both 2 trials in Rally-O too with 3rd and 4th place ribbons :)

Here she is, just turned 1 year old and is already very stocky!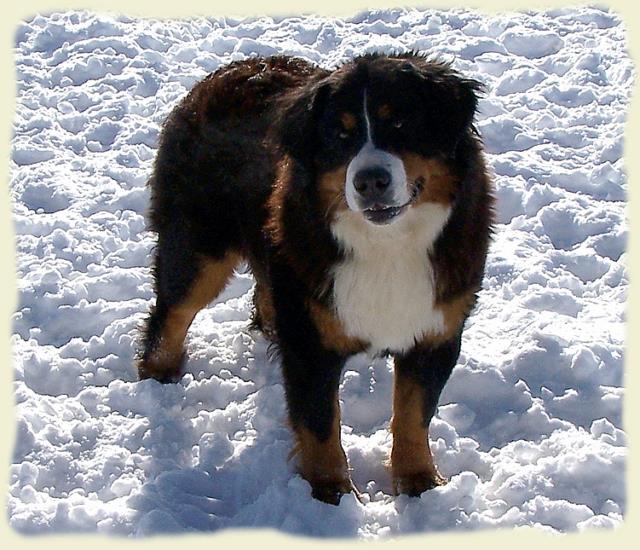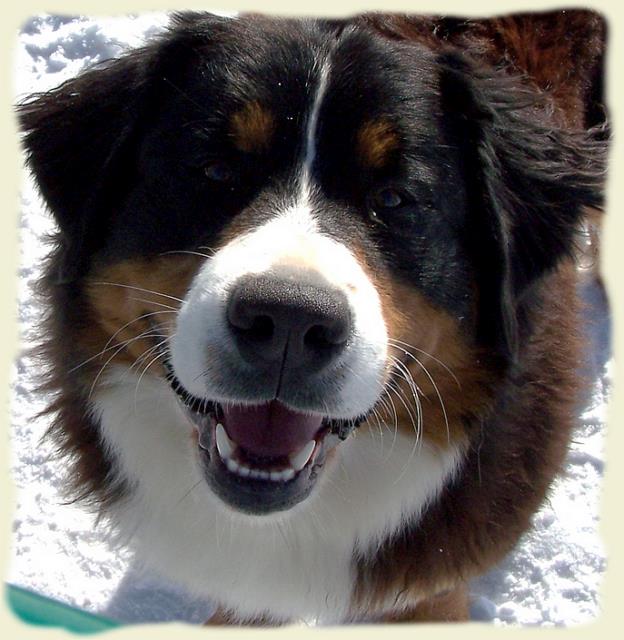 What a beautiful berner smile!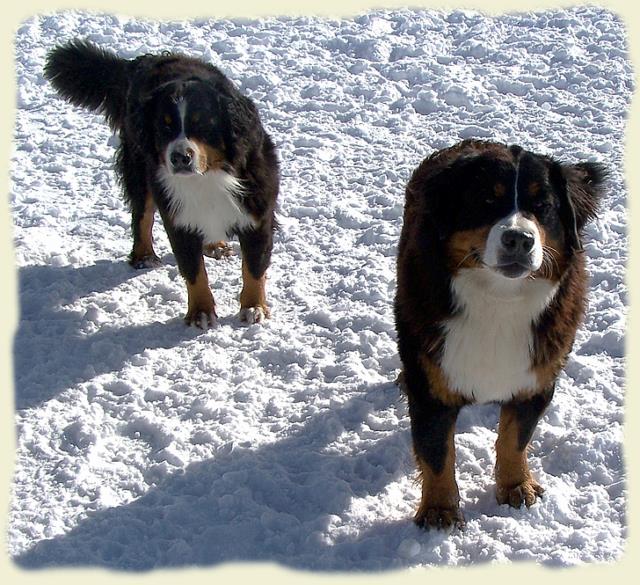 Trinity (right) with mother Charlotte (left)

Trinity 9 months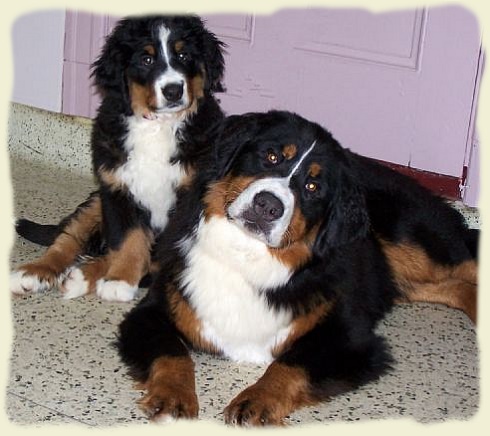 Trinity 3 months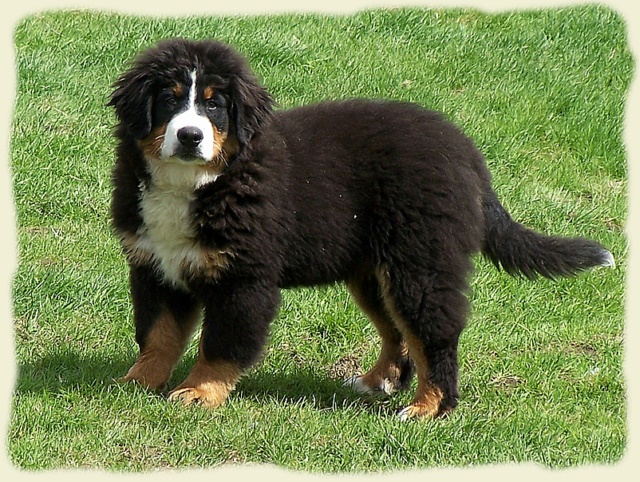 Trinity a puppy 6 weeks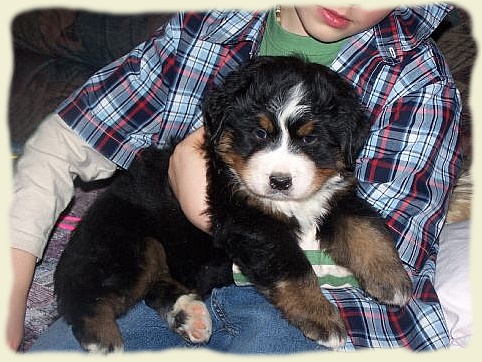 Trinity 4 weeks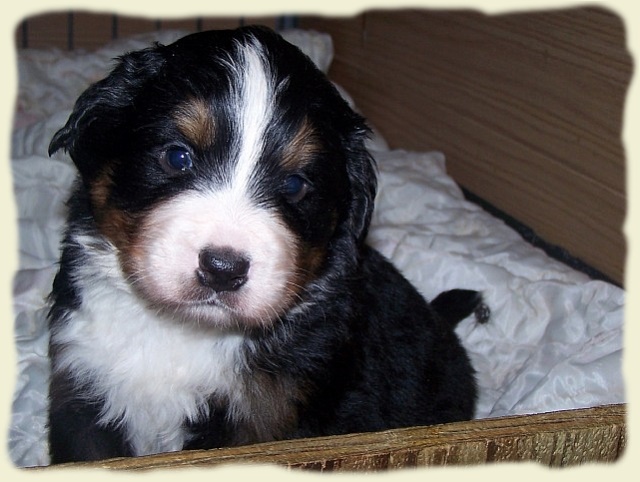 Cute Trinity only 3 weeks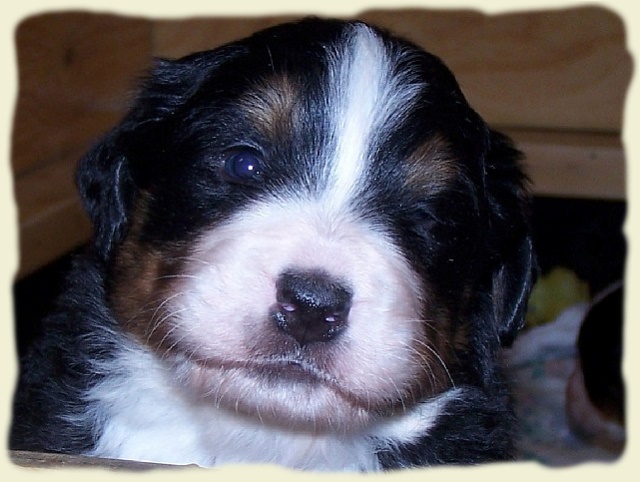 Trinity baby 2 weeks