Our Bernese Mountain Dogs are...
BEARS on the outside - big TEDDYS on the inside !

DEVOTED BREEDER OF BERNESE MOUNTAIN DOGS

Devoted to the well being of the breed
Devoted to the health of bernese mountain dogs
Devoted to the families who adopt our puppies
Devoted to the canine fancy and colleagues sharing the same passion
Devoted full time to our dogs, our puppies and our family

'BELNOIS' IS A DEVOTED BREEDER OF BERNESE MOUNTAIN DOGS SINCE 2003 !

==============================================================

Our bernese mountain dogs won many prestigious awards in our recent dog shows. We wish to thank all the judges who appreciated and selected our dogs.
In 2017, our 'Belnois' dogs were awarded 4x Best In Show (

BIS

), 3x Best Puppy In Show (

BPIS

), 1x Best In Specialty Show (

BISS

) and 1x Best Puppy In Specialty Show (

BPISS

).
In 2018, Maeva wins the high honors of Best In Show (

BIS

) and our Rueger is awarded his 4th

BIS

! Our youngsters Carli and Cowboy both win a Best Puppy In Show (

BPIS

).

The Bernese Mountain Dog...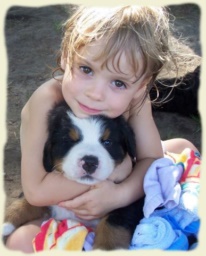 An all around perfect family companion dog; the bernese mountain dog is docile, loyal, affectionate, guardian, but never agressive, always eiger to please and be useful for the hapiness of his family.

The Bernese Mountain Dog is only happy when he's close to his family. He loves and protects all family members; adults, kids, other dogs, cats, small animals, he will accept every member that is part of the family. If you take a minute to look in the eyes of a Bernese Mountain Dog, you can feel all that love and loyalty he has for his loved ones. This breed is really suited for the REAL dog lovers, the bernese mountain dog asks ALOT of affection and presence. This calm and docile companion, only asks to be close to us and loved, laying around us, hoping for a good tummy rub or a ear scratch. Most of all, the Bernese Mountain Dog loves to follow his family everywhere, for walks, hikes, or just riding in the car with us, he will go anywhere and behave just to be close to his family.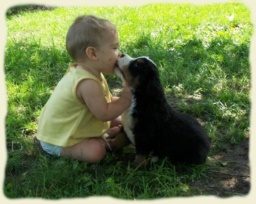 Now hypnotized and so in love with this incredible breed of bernese mountain dog, I devote my life to my family that includes my Bernese Mountain Dogs. My first and most important priority is to share the hapiness that can bring a Bernese Mountain Dog with families who dream of owning such a wonderful dog. First of all, I want to bring joy to those families by offering them puppies born from bernese mountain dog 'parents' carefully selected for excellent health, with good longevity, a wonderful easy-living temperament, and that respects the highest

CKC

breed standards of the bernese mountain dog.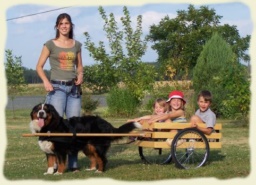 Everytime we plan a litter of puppies, we devote as much love, devotion, attention, preparation and time as we do for our own kids. We put all our best efforts and energy to produce the best quality bernese mountain dog puppies. Come visit us to meet our berners, you will see the difference !

We offer to all our dogs/puppies the best confort, high quality food, nutrition and supplements, health follow-up and exam with a good reputable vetenarian, education, stimulations and good socialisation so our puppies can grow to their best potential and live full HAPPY lives with their adoptive families, not forgetting to mention the hapiness they bring to our own family everyday!

Bernese Mountain Dogs from our 'Belnois' Reg. breeding program represent proudly and with dignity the breed, from either being the best family companions for numerous happy families all around North America, as they proudly represent their working breed heritage in different canin activities and shows winning and earning many championships and canadian titles ! With these several wins and honors, 'Belnois' Bernese Mountain dogs stands out for their 'Versatile Berners' that truly make a difference to the breed and breed heritage in Canada ! 'Belnois' Bernese moutain dog breeding program is based on the best bernese backgrounds, ancestors and bloodlines, offering a solid foundation to our puppies so they can have bright and happy futurs with their adoptive families !
We are a member in good standing of many clubs and respect their quality code of ethics:

Bernese Mountain Dog Club of Canada (BMDCC); Active assistance to bernese mountain dogs in need of rescue - Quebec Province
Bernese Mountain Dog Club of America (BMDCA)
Bernese Mountain Dog Club of Ontario (BMDCO)
Bernese Mountain Dog Club of Quebec (BMDCQ); Director in 2007 - 2010
Canadian Kennel Club (

CKC

); Draft Test

CKC

Rep - Quebec Province
Mauricie Canin Association (ACM)
Association of Champions Dogs Breeders of Quebec (RECCQ)
Don't hesitate to contact us or visit us (on appointement only) if you need any information on my dogs, puppies or on Bernese Mountain Dogs in general, I love to share this great passion with everyone willing to listen:

Véronique Matte-Paquet
Aston Jonction (Qc)


vmpaquet@hotmail.com
WARNING: It is strictly prohibited to import, copy and print content of this site (photos, texts, etc.) for publication (commercial or otherwise) elsewhere on the Internet without the consent of the Webmaster. All the texts of this website have been created by its webmaster, owner of the website with all the rights of authors. If you notice other websites with identical or similar texts, they have copied on this web site.
I am sincerely touched and grateful to have been chosen as a  recipient for one of the 2013 ''Oustanding Service Award'' offered by the Bernese Mountain Dog Club of Canada (BMDCC) to club members that have dedicated time and effort to our bernese mountain dogs health and welfare, and volunteered help to the club. Wow! Thank you BMDCC!
CONTACT US

Don't hesitate to contact us or visit us (on appointement only) if you need any information on my dogs, puppies or on Bernese Mountain Dogs in general, I love to share this great passion with everyone willing to listen:

Véronique Matte-Paquet
Aston Jonction (Qc)


vmpaquet@hotmail.com
THE PASSION OF BEING A 'BREEDER':

I am a breeder. I spend a lifetime learning pedigrees, going over dogs, talking, and learning from those in my breed and those outside it. I raise each litter as if I gave birth to them and spend an equal amount of time finding them loving forever homes. I only put puppies on this planet that I think will be the healthiest (mentally and physically) and nicest examples of their breed. I support each family who chose one of my puppies and let them know they are now a part of our extended family.
I am there if one needs to come back and will aggressively pursue the return of one of my dogs if it's in the wrong place. I support my breed in rescue and education. I hold them when they arrive and leave this world. I share my knowledge and socialize my dogs so that they will be the advertisement for my dedication. I don't keep track of the money and time I put in to my love of dogs, it would not be a true measure of how I feel. The price I charge for my puppies is never profit, but investment in the next generation. I am not ashamed of who I am... I work hard at being a good dog person and encouraging others to be the same. I am a breeder and I am proud of it.

Author - Anonymous
Texte from a Facebook publication