CH

. F.EULIS VAN'T STOKERYBOS, CD, DD, RN, RA, RE, CGN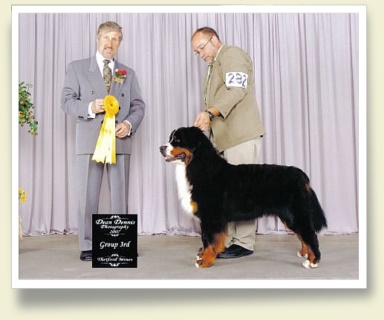 Canadian Champion in conformation
Canadian Obedience Novice Companion Dog Title 'CD'
Canadian Rally-Obedience Novice Title 'RN'
Canadian Rally-Obedience Advanced Title 'RA'
Canadian Rally-Obedience Excellent Title 'RE'
Canadian Draft Dog Title 'DD'
BMDCC Versatility Dog Award!!

Male


CKC

Reg# 1094116
Born January 12, 2006
110 pounds
25.5 inches

Pennhip : .65 / .54
OFA-Hips-Fair
OFA-Elbows-Normal
OFA-Cardiac-Normal BMD-CA1038/12M/S-PI
CERF-Eyes-Clear BMD-3762-2007/2008
Vetgen Vwb 'Clear' # 48039
ADN # 48040
Eulis received the following

CKC

titles:

'CGN' (Canin Good Neighbor) / October'06
'CD' Obedience Title (Companion Dog) / April 2007
CAN.

CH

. Canadian Championship / May 2007
'RN' Rally-Obedience Novice title / June 2008 
'DD' Draft Dog title / October 2008 
BMDCC Versatility Award qualifications / October 2008
'RA' Rally-Obedience Advanced title / May 2009 
'RE' Rally-Obedience Excellent title / September 2009
HIGHEST SCORING Bernese Mountain Dog in Obedience and Rally-O at the Bernese Mountain Dog Specialty of the Nashoba Valley Club, North Conway, New Hampshire USA_ / September 2009 

Imported from Belgium, Eulis descends from a incredible quality line with the best BMDs that combines perfectly all elements of Beauty, Temperament and Health!!! He has more than 5-6 generations certified FREE of hip AND elbow dysplasia, all HD A/A or B/B hips and 0/0 elbows!!!

Eulis has a impressive 4 generation pedigree, we find alot of reknowed bernese mountain dogs, including 3 World Champions, 14 International Champions , without forgetting the numerous Champions of many different european countries like Switzerland, Belgium, etc.. 
His father 'Multi

CH

. Zorbha van't Sokerybos' is an exceptionnal dog that won MANY beauty titles, like the honor of WORLD CHAMPION 2003, EUROPEAN CHAMPION 2003, CRUFTS WINNER 2003, INTERNATIONAL CHAMPION , and he is also


CH

. of Belgium,

CH

. of Netherlands,

CH

. of Germany,

CH

. of Luxembourg and

CH

. of France!!!

Zorbha 's father is the most famous 'INT.

CH

. Ferris v.d.Holderstockhohe', a wonderful berner who greatly contributed to the better of the breed. Will Eulis follow the steps of his father and grand-father... we have lots of hope for him!

CH

. Zorbha van't Stokerybos
His mother

CH

. Annabel van't Stokerybos is a INTERNATIONAL CHAMPION, she is the grand-daughter of '

CH

. Derry v. Veit' WORLD CHAMPION 1996!


Eulis has all the best qualities and incredible solid genetics to produce very HIGH quality puppies, standard to the breed, in excellent health, with perfect temperaments and beautiful Champion Show potentiel!

I greatly thank Susan and Ivan Delrue to have giving me the chance to welcome this incredible berner in our home and family in Quebec, Canada... Eulis is truly everything we were hoping to have in our lives! He is one in a lifetime dog!

Eulis has such a remarquable friendly temperament, super affectionate and social, he is certified Hips / Elbows / Cardiac / Eyes / Vwb / ADN all Normal, he is very obediant and loves to work with us.

CH

. Annabel van't Stokerybos


He easily passed his 'CGN' title at only 9 months, and already at only 10 months, when the shows stopped for winter in November, he almost finsihed his 'CAN.

CH

.' in beauty and he also almost finished his 'CD' obedience champion title. Eulis completed his 'CD' obedience title in April 2007 and also received his 'Canadian Championship' in May 2007 after taking the honors of more than 13 x 'Best of Breed', 2 x '3rd Group Placements ' and a 'Best Puppy in Group', all this before the age of only 16 months!
In 2008, Eulis completed his 'RN' Rally-O Novice title and his 'DD' Draft Dog title! Eulis is now qualified to receive the BMDCC Versatility Dog Award! All this at only 2 years of age! We are planning many shows and activities with Eulis in 2009 and 2010 in Canada and the USA to continue collecting many titles... he nevers stops to amaze us with his incredible eager to please and big capacity to learn new things so fast (a very good quality he gives to his pups)!!!

BERNESE MOUNTAIN DOG CLUB OF NASHOBA VALLEY SPECIALTY, NEW HAMPSHIRE USA
Le 4 septembre 2009, Eulis nous offres des performances hors-pair à la spécialité BMDCNV parmi de nombreux bouvier bernois par épreuve! Eulis remporte le PLUS HAUT POINTAGE dans les 2 disciplines l'Obéissance et en Rally-O , même qu'ils remportent les 2 fois 1ere place parmi même les chiens Toutes Races dans ses classes!!!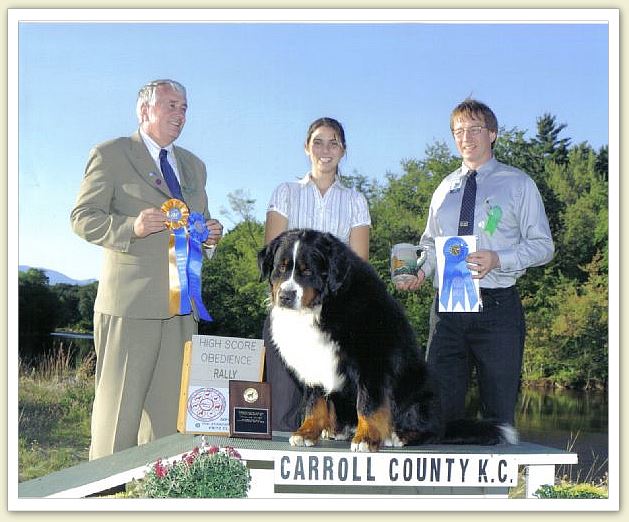 Draft Test in Long Sault, Simcoe and Janetville, Ontario
Eulis completed his Draft Dog 'DD' title in Janetville Ontario on October 4th 2008 !!!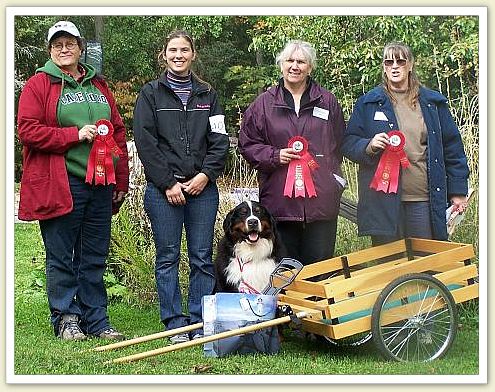 Brôme Show June 15, 2008
Eulis qualified for his Rally-O Novice 'RN' title with 98 and 95 points on 100 !!! He was in good company of his daugther Trinity who also qualified for her 'RN' title with 99 and 97 points on 100 and she got 2nd place!!!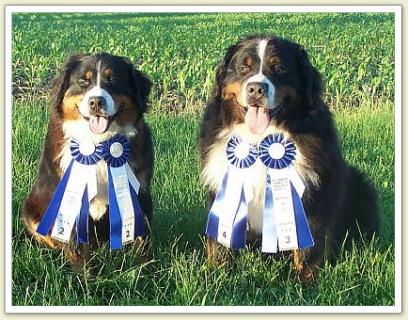 Beauport Show 2-3 June 2007
Again, Eulis got 3 x Best of Breed ; and another '3rd Group Placement' !!!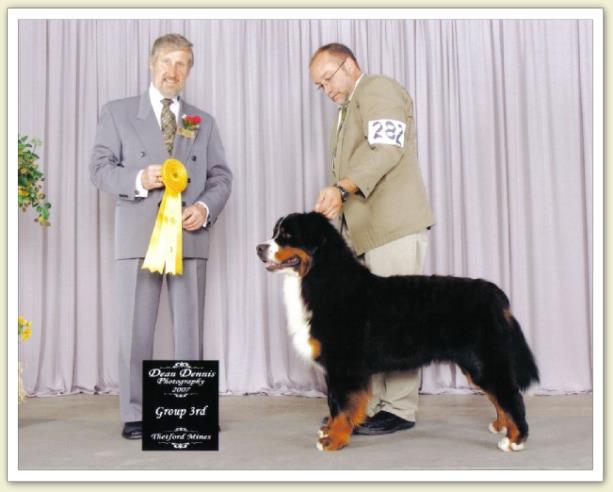 Thetford Mines Show 26-27 May 2007
4 x Best of Breed ; 1 x 3rd Group Placement !!!
During this single weekend, Eulis received more than 10 championship points and easily got his
'NEW CHAMPION' title !!! That's my boy!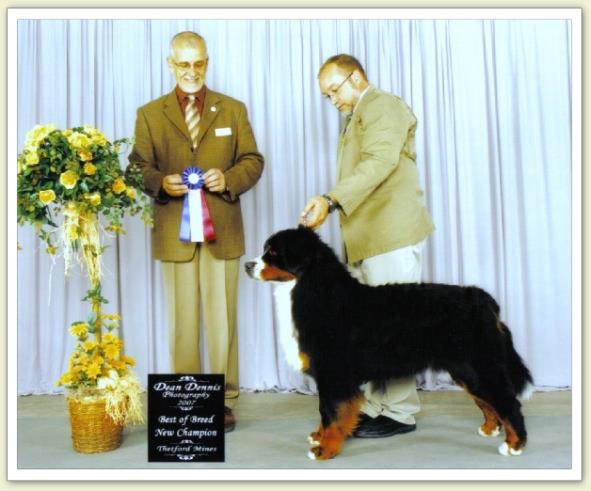 International Montreal Show 24-25-26 november 2006
1 x Best of Winners ; 1 x Best of Opposite Sexe ; 1 x Best of Breed!!!
Eulis also participated in the obedience trials that same weekend,
and he achieved 2 qualified scores!!!
BRAVO AGAIN EULIS! What a incredible weekend for a 10 month old puppy!!!!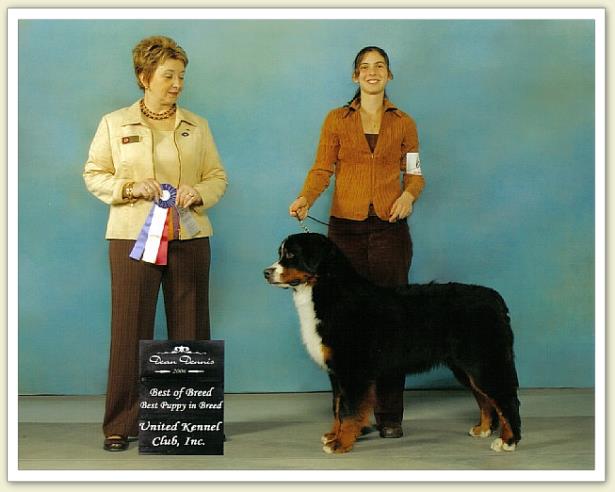 Québec City Show 20-21-22 October 2006
5 x Best of Breed ; 5 x Best Puppy in Breed ; 1 x Best Puppy in Group!!!
BRAVO EULIS! Wow, what a nice start for your very first show at only 9 months!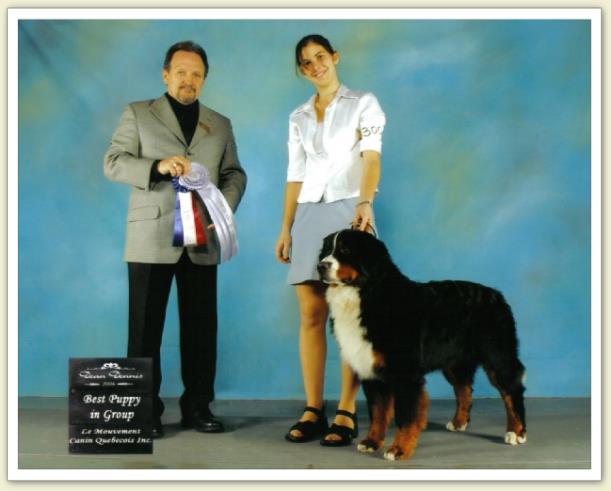 Eulis loves to work and learns everything so fast... At only the age of 9 months, he already completed his 'CGN' title and also received 2 qualified scores to his 'CD' obedience title! He completed his 'CD' title at 15 months as the new show season started, and he is already praticing for his next title 'DD' (Draft Dog)!
We are so proud of our boy, and he is just starting to have fun in the title ring...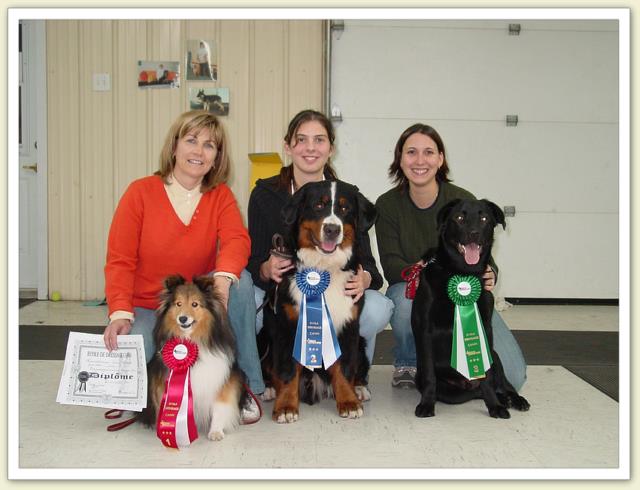 Eulis 13 months!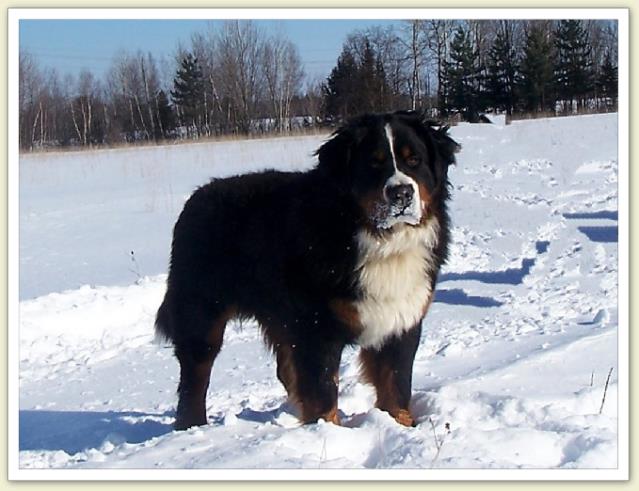 Here are a few pictures of beautiful Eulis who just turned 2 years old, the most gorgeous teddy boy!