CH

. GABRIELLE VAN'T PACHTHOF, CD, RN, RA, CGN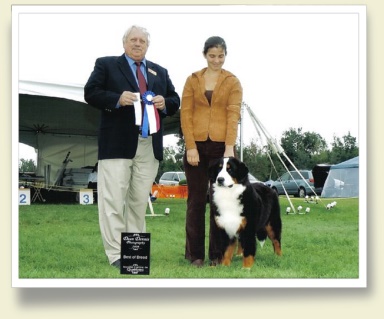 IMPORTED FROM BELGIUM

Canadian Champion in conformation
Canadian Obedience Companion Dog Title 'CD'
Canadian Rally-Obedience Novice Title 'RN'
Canadian Rally-Obedience Advanced Title 'RA'
Received 2 qualifications for her Draft Dog title 'DD'

Female


CKC

Reg # 1102107
Born November 1st, 2007
85 pounds
24 in.

Father :

CH

. Edouard van't Pachthof
Mother : Bambi van't Pachthof

Pennhip : .46L / .42R (70%)
OFA-Hips-EXCELLENT
OFA-Elbows-Normal
OFA-Heart-Normal BMD-CA2045
CERF-Eyes-Clear BMD-4819-2009
Gabby received the following

CKC

titles:

'CAN.

CH

.' Canadian Championship in conformation (Beauty) / June -September 2008 
'CGN' (Canin Good Neighbor) / May 2009 
'CD' Obedience Novice title (Companion Dog) / April-May 2009 
'RN' Rally-Obedience Novice title / May 2009 
(DD) 2 qualifications earned for her draft dog title!!! / June 2009 
'RA' Rally-Obedience Advanced title / August 2009
| | |
| --- | --- |
| Gabby 2 years, November 2009 | |
| | |
| --- | --- |
| Gabby 1 1/2 years | |

Gabby 6 1/2 months

Gabby 6 months!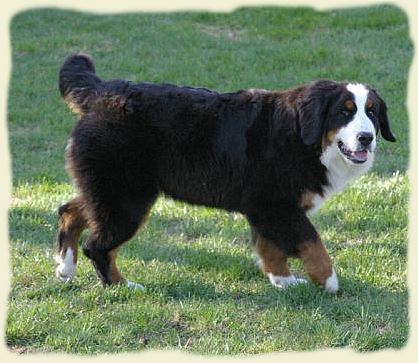 Gabby 4 months!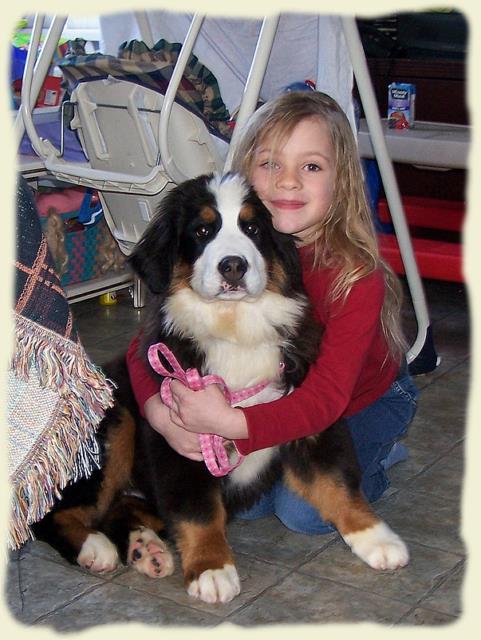 Gabby 3 months!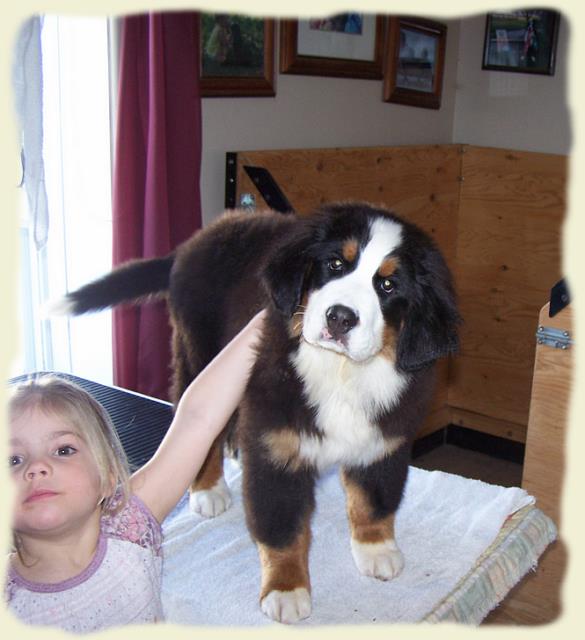 Gabby 2 months!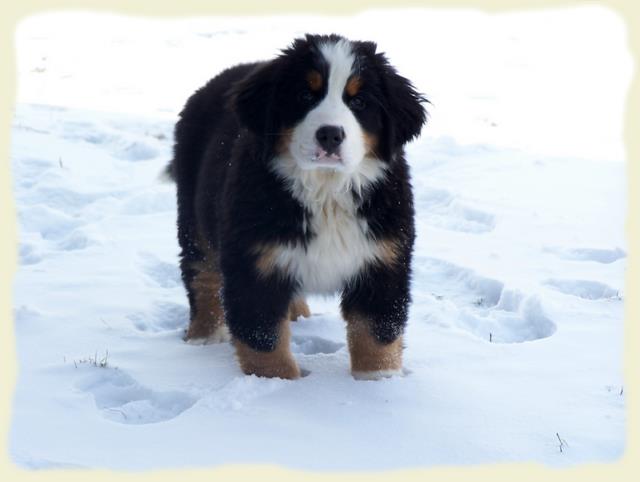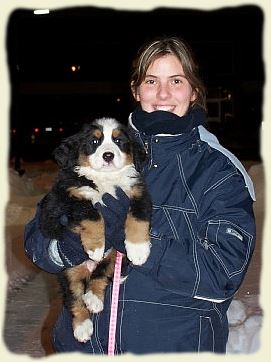 Gabrielle arrives to Canada!

Bernese Mountain Dog Club of Quebec Specialty June 28, 2008
Gabrielle, at only 7 months, wins 'Best puppy in Breed' over many entries all 3 show days and in the puppy sweepstakes, she wins 'Best of Opposite Sexe' (Best female) from all the puppies entered of 6-18 months!!! What a great start for her :)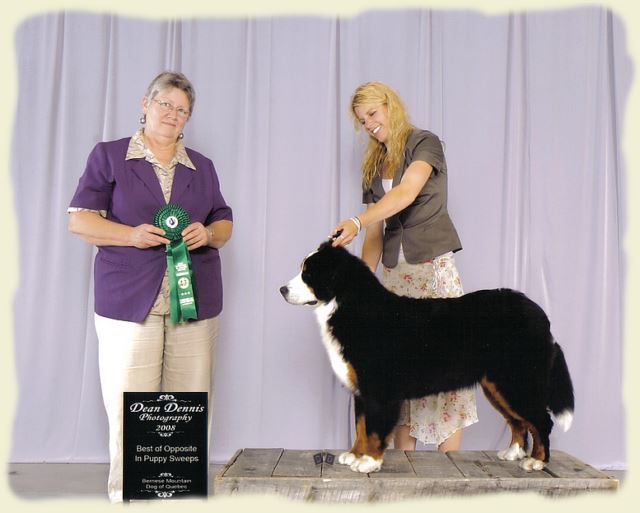 Ste-Foy Show 1-2-3 August 2008
Gabrielle is 'Best of Opposite Sexe' friday and saturday. Sunday, the juge gives her 'Best of Breed' over adults!!!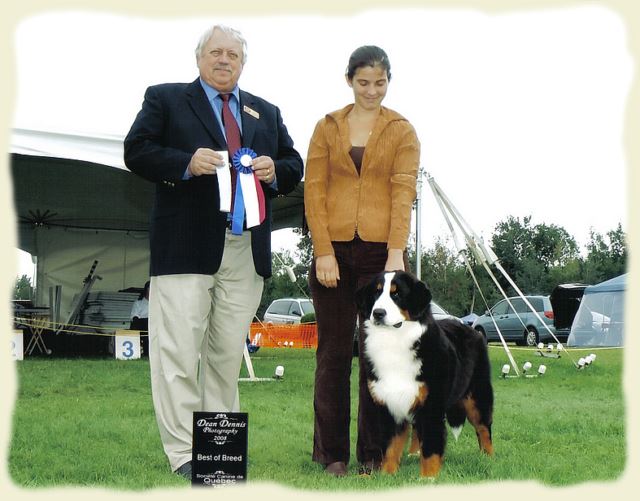 Ste-Marie Show 9-10 august 2008
Gabrielle continues to earn her Canadian Championship title... this weekend she receives the honors of 'Best of Breed' over specials and also a 'Best Puppy in Group' !!! A big thank you to Simon Verge who handle Gabby for me in the 'Puppy Group' ring while I was already in the other ring with Trinity in obedience :)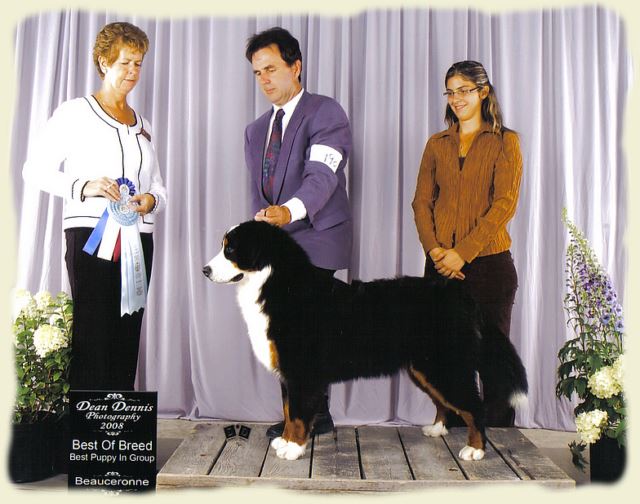 Laval show 19-20-21 September 2008
Gabrielle is now a CANADIAN CHAMPION at only 10 months !!! Thank you to all the juges who recognized her beautiful qualities for the breed :)